We are pleased to announce that the second virtual event of this year will take place on Monday 8th November 2021 and will focus on the IEEPO CHANGE and IEEPO MAKE domains of engagement. 
The IEEPO CHANGE domain reinforces the idea that global health policy is shaped by what is happening on the ground. Through a panel debate, you will hear from patient advocates, experts and changemakers about how they have created positive change for their patient communities, by taking an evidence-based, ''Think global, act local" approach.
Under the IEEPO MAKE domain, you will be able to participate in the launch of a community-owned white paper focused on 'humanising healthcare' touching on personalised healthcare, and with discussions around how the patient community can be strong partners in making this a reality for communities around the world.
Sign up to the IEEPO community to stay tuned for the latest information about the event.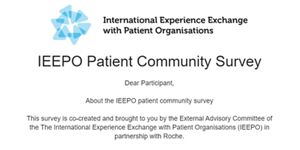 Take the IEEPO Community Survey today to have your voice heard!
We need your collective voices, insights and expertise now. The IEEPO community survey is your chance to not only influence the topics discussed in the Q4 Event taking place on the 8th of November 2021, but you will also be joining the rest of the IEEPO community in co-creating a tool that can be used locally to create positive change for patient communities across the world; the MAKE white paper.