We are delighted to invite you to the second IEEPO 2021 event, on Monday 8th November - This event was designed with you, a patient advocate, in mind and will focus on the IEEPO MAKE and CHANGE domains of engagement.
Entitled 'Think Global, Act Local: Uniting for Change, Uniting healthcare together' will focus on uniting and strengthening the voice of patients who are advocating for healthcare system changes, how patients can have a 'seat at the table' in healthcare decision-making processes and how we can all "Think global, Act local".
Hosted virtually over one day, as a series of short sessions, discussions and workshops we invite you to collaborate on forward-thinking approaches to localising global ambitions for the future of healthcare. You'll hear from different experts with global and local community patient advocacy expertise, have the exciting opportunity to share experiences with the IEEPO community, and be part of the launch of the IEEPO MAKE white paper! You will also have the opportunity to ask the IEEPO Q4 event speakers questions and receive answers in an additional session after the event proceedings.
Please note that translations will be provided for the main session (Introduction, MAKE whitepaper discussion, and panel debate) in Arabic, Bengali, Chinese (Simplified), Chinese (Traditional), Dutch, English, French, Germany, Hindi, Italian, Japanese, Korean, Portuguese, Russian, Spanish, and Tamil.
The topics of this event have been informed by the community through case studies from the CHANGEmaker video series and patient community feedback through the IEEPO community survey.

Topics will cover:
The 'Politics of Policy Making'
More information about the IEEPO CHANGE and MAKE domain:
The IEEPO CHANGE domain reinforces the idea that global health policy is shaped by what is happening on the ground. Through a panel debate, you will hear from patient advocates, experts and changemakers about how they have created positive change for their patient communities, by taking an evidence-based, ''Think global, act local" approach.

Under the IEEPO MAKE domain, you will be able to participate in the launch of a community-owned white paper focused on 'humanising healthcare' touching on personalised healthcare, and with discussions around how the patient community can be strong partners in making this a reality for communities around the world.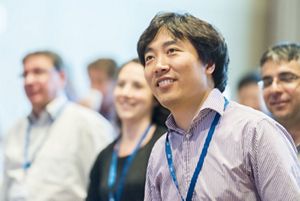 IEEPO 2021: Domain Overview
IEEPO 2021 will be organised around four key domains of engagement: THINK, LEARN, CHANGE and MAKE. Each domain has a unique focus and provides an opportunity for continued dialogue, co-creation and transformative collaboration.