The MAKE domain will provide the community with a co-created piece of content or asset (e.g. white paper) which provides a unified IEEPO community position on priority topics addressing unmet needs in advocating for personalized healthcare. The content or asset will examine key issues that affect access to healthcare, including:
The asset will be informed by insights from the global IEEPO patient community and will be available for patient communities to engage and inspire their local constituents to make change happen and transform the healthcare ecosystem to the benefit of patients

The asset will be launched at the end of 2021. Check this page regularly for updated information.
IEEPO 2021: External Advisory Committee - MAKE Domain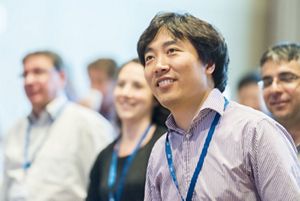 IEEPO 2021: Domain Overview
IEEPO 2021 will be organised around four key domains of engagement: THINK, LEARN, CHANGE and MAKE. Each domain has a unique focus and provides an opportunity for continued dialogue, co-creation and transformative collaboration.
IEEPO LEARN Library
An impactful library of practical tools, materials and resources across a range of learning topics, to support and upskill patient groups of all sizes and in all geographies.